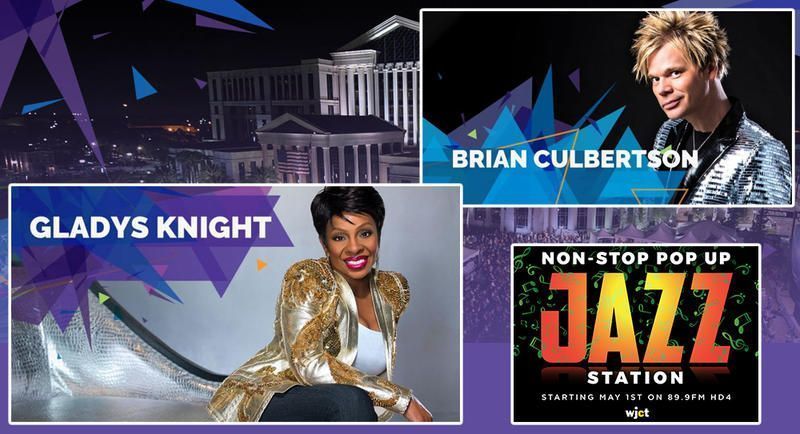 Lineup Announced For 2019 Jax Jazz Festival; WJCT Launches Pop-Up Jazz Station
Gladys Knight and Brian Culbertson will be the headliners at this year's Jacksonville Jazz Festival that will be held on Memorial Day weekend, May 23 – 26.
Best known for her hit with the Pips, "Midnight Train to Georgia," Knight gained widespread fame and is known as the Empress of Soul.
Jazz, funk and R&B artist Brian Culbertson is known for smooth jazz hits like "Always Remember" and "Hookin' Up."
Other performers set to appear include:
Monty Alexander
Ledisi
Kirk Whalum
Alfredo Rodriguez Trio
Avery's Sunshine
Terence Blanchard feat. the E-Collective
Norman Brown
Camila Meza Quartet
Greg Adams & East Bay Soul
Moonchild
Jazmin Ghent
Amina Scott
Jamison Ross
Brass-A-Holics
The Noel Freidline Quartet with Maria Howell
LPT
The Delfini Jazz Sextet feat. Jacksonville University jazz faculty and alumni
Dennis Marks
Clyde Connor
The University of North Florida Jazz Ensemble
As in years past, the festival will kick off with a piano competition Thursday night. It will be held at the Florida Theatre.
Friday through Sunday most of the music will be heard at the two main stages, which are at Hemming Park and in front of the Duval County Courthouse. The full performance schedule with times and locations is available at the Jazz Fest's website.
The Ritz Theatre & Museum, Breezy Jazz Club on West Adams Street, and the Omni Hotel will also host events as part of the festival.
A Second Line Jazz Parade will be held on Saturday, May 25, at the corner of Broad and Adams streets.
Pop-Up Jazz HD Radio Channel Launches Ahead Of The Festival
WJCT has launched a 24/7 HD radio jazz channel at 89.9-4.
"We've got 4,000 songs in rotation. We're calling it Pop-Up Jazz to help get you in the mood for the big jazz festival," said WJCT Radio Manager David Luckin, who curated the channel.
Luckin said he'd love to hear from listeners who enjoy the channel at music@wjct.org
HD Radio comes standard in many newer automobiles and home receivers.  It provides CD-quality sound along with song title information. WJCT's HD channels are not available on older AM/FM analog radios.
WJCT operates four free HD Radio channels:
Bill Bortzfield can be reached at bbortzfield@wjct.org, 904-358-6349 or on Twitter at @BortzInJax.