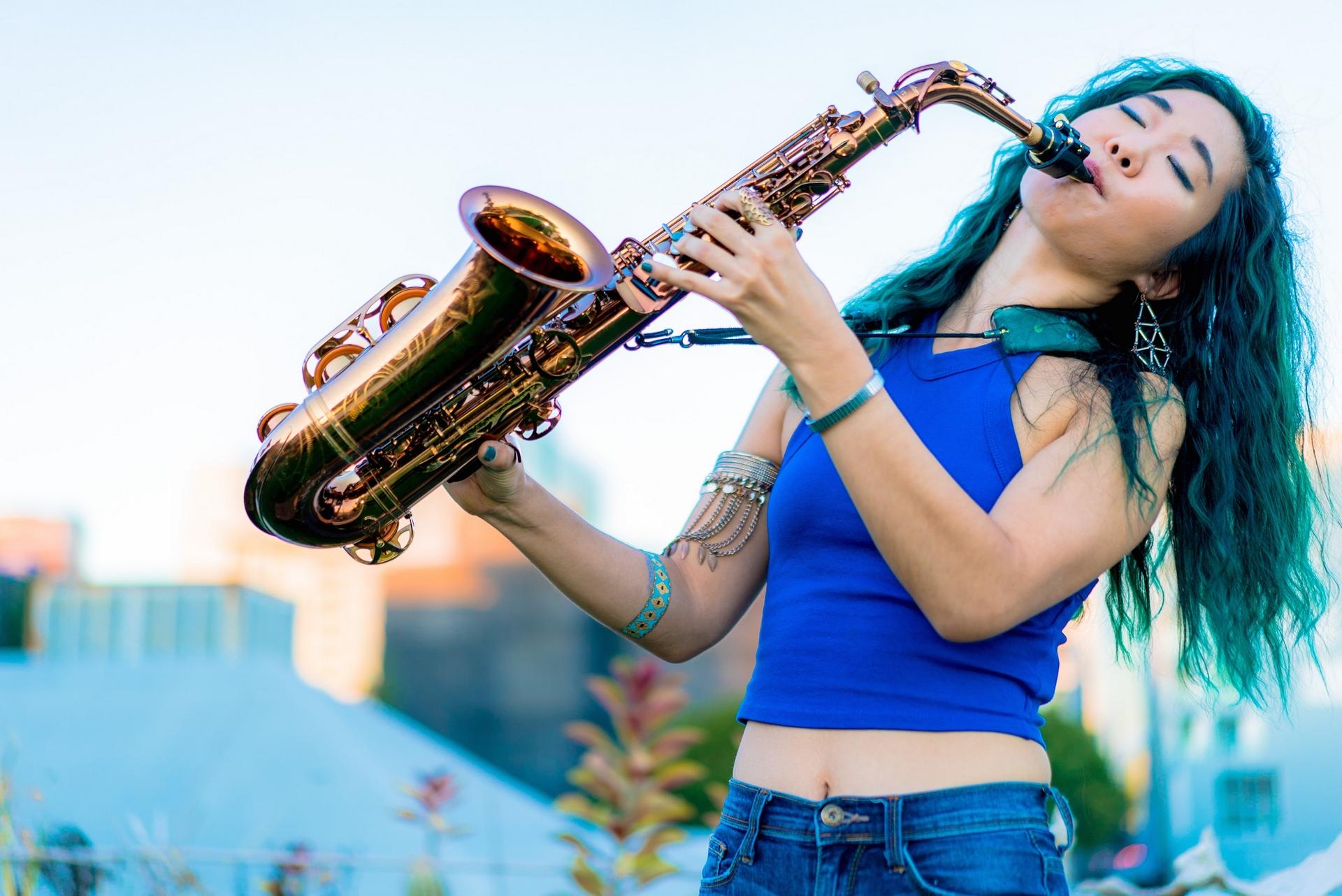 Jacksonville Jazz Fest returns to downtown Friday-Sunday
One of the performers at next weekend's Jacksonville Jazz Festival, Sheila E., had a Top 10 pop single, toured three times in Ringo Starr's Band and spent years as musical director for Prince. Her father Pete Escovedo, who is also on the bill, is a former member of Santana and a titan in the Latin jazz community.
There's a performer, sax man Charles Lloyd, who was named Down Beat magazine's Jazz Artist of the Year — 51 years ago. Another, Trombone Shorty, first played the famed New Orleans Jazz and Heritage Festival at age four. There's a 10-time Grammy winner playing (Arturo Sandoval), as well as one of the founders of the jazz fusion movement (Jeff Lorber) and a guy who released the all-time best-selling instrumental acoustic guitar album (Ottmar Liebert).
In short, a lot of really good music is coming to town — and it's free.
The Jacksonville Jazz Festival plays out on three stages Friday, Saturday and Sunday, May 27, in the downtown streets. There's a big change to the layout this year, with one of the main stages relocated from the Jacksonville Landing to the Duval County Courthouse.
But first, the traditional opener: The Jacksonville Jazz Piano Competition, which features five up-and-coming pianists competing for a spot on the festival stage. This year's competitors, chosen blindly based on taped submissions, are Matt DeChamplain, a graduate of the University of Toledo; Keelan Dimick, who also competes in this year's American Pianists Association Competition; Nicholas Olynciw, a student at Western Michigan University; Matthew Villinger, who earned a Masters in Jazz Performance from Southern Illinois University; and Spencer Zweifel, a student at the University of Northern Colorado. Noel Freidline returns as host of the event. The piano competition is Thursday at the Florida Theatre. Tickets are $13.50.
All other festival shows are free unless otherwise noted. VIP packages are available from $99-$359.
THE STAGES
• The Swingin' Stage is near the Duval County Courthouse, at Pearl and Adams streets
• The Groovin' Stage is at Hemming Park
• The Breezin' Stage is near Adams and Main streets
PROHIBITED ITEMS
Coolers, outside food or alcohol, grills, tents or canopies, umbrellas, pets, recording devices, fireworks, flagpoles, glass containers, bicycles, skateboards, rollerblades, drones, musical instruments, projectiles including balls and Frisbees and signs or flags larger than 2-by-3 feet.
CLOSED STREETS
Downtown streets will begin to close to traffic on Tuesday; some will be held open until Friday. The following streets will be closed until Monday, May 28: Duval from Logan to Hogan, Broad from Forsyth to Monroe, Adams from Main to Jefferson, Laura from Forsyth to Church, Monroe from Pearl to Ocean, Pearl from Duval to Forsyth, Hogan from Forsyth to Church, Duval from Hogan to Julia, Duval from Ocean to Main and Main from Church to Adams.
SKYWAY
The JTA Skyway will run from 6 a.m. to 12:30 a.m. Friday, 11 a.m. to 12:30 a.m. Saturday and 11 a.m. to 11:30 p.m. Sunday, May 27.
LATER
After the last act walks off stage, the music isn't done. Jazzfest After Dark puts music in more than a dozen downtown venues Friday and Saturday nights. You can catch acts at 1904 Music Hall, Bold City Brewery, Cowford Chophouse, Spliff's Gastropub, De Real Ting Café, the Volstead, Element Bistro Bar & Lounge, Myth Nightclub and Breezy Jazz Club. Some have cover charges. For a schedule, go to jazzfestafterdark.com.
THURSDAY
7 p.m.: Jacksonville Jazz Piano Competition, Florida Theatre, $13.50
FRIDAY
5:30 p.m.: Raisin Cake Orchestra, Groovin' Stage
6 p.m.: Chris Thomas Band, Breezin' Stage
7 p.m.: Champian Fulton Quartet, Groovin' Stage
7:30 p.m.: Grace Kelly, Swingin' Stage
7:30 p.m.: Charles Lloyd Quartet, Breezin' Stage
9 p.m.: Lohai, Groovin' Stage
9:30 p.m.: Dianne Reeves with Peter Martin, Romero Lubambo, Reginald Veal and Terron Gully, Swingin' Stage
9:30 p.m.: Dr. Lonnie Smith Trio, Breezin' Stage
SATURDAY
10 a.m.: Ulysses Owens Jr. drum clinic, Ritz Theatre
11 a.m.: Grace Kelly saxophone clinic, Ritz Theatre
3 p.m.: Micha Bethea Big Band, Swingin' Stage
3 p.m.: Zach Bartholomew Quartet, Groovin' Stage
3 p.m.: Jonathan Baptiste & the Urban Intellectuals, Breezin' Stage
4 p.m.: Second Line Jazz Parade, Broad and Adams streets
4:30 p.m.: Piano Competition winner, Swingin' Stage
4:30 p.m.: Pete Escovedo with Jimmy Bosch and Chembo Comiel, Breezin' Stage
5:30 p.m.: Vijay Iyer Sextet, Swingin' Stage
6 p.m.: Ottmar Liebert & Luna Negra, Groovin' Stage
6:30 p.m.: Euge Groove, Breezin' Stage
7:30 p.m.: Sheila E., Swingin' Stage
8 p.m.: Russell Malone Quartet, Groovin' Stage
8:30 p.m.: The Bad Plus, Breezin' Stage
9:30 p.m.: Big Bad Voodoo Daddy, Swingin' Stage
SUNDAY
10 a.m.: Sacred Jazz Brunch featuring the Noel Freidline Quintet with Maria Howell, Omni Hotel, $39
2 p.m.: Jeffery Broussard & the Creole Cowboys, Groovin' Stage
2:30 p.m.: Douglas Anderson School of the Arts Jazz Ensemble 1, Breezin' Stage
3 p.m.: UNF Jazz Ensemble, Swingin' Stage
3:30 p.m.: Linda Cole & the Joshua Bowlus Quartet, Groovin' Stage
4 p.m.: Naughty Professor, Breezin' Stage
4:30 p.m.: Ulysses Owens Jr. Three, Swingin' Stage
5 p.m.: Josh Vietti, Groovin' Stage
5:30 p.m.: Jane Bunnett & Maqueque, Breezin' Stage
6:30 p.m.: Maysa
7 p.m.: Jeff Lorber Fusion, Groovin' Stage
7 p.m.: Arturo Sandoval, Breezin' Stage
8:30 p.m.: Trombone Shorty & Orleans Avenue, Swingin' Stage