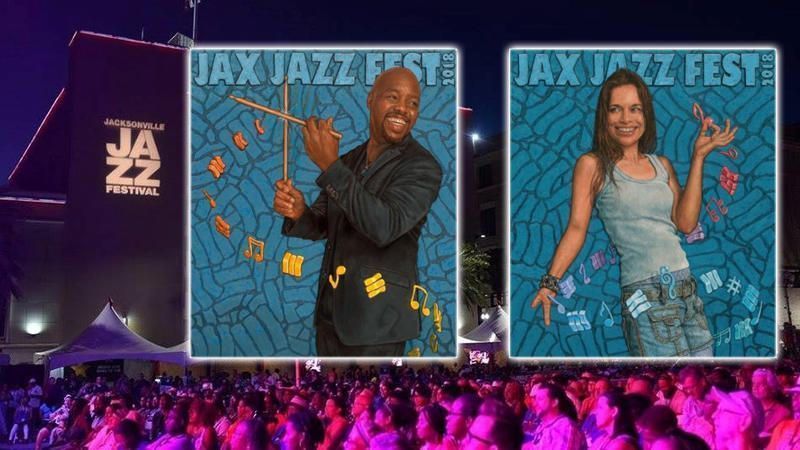 2 Posters Unveiled For 2018 Jacksonville Jazz Festival
Unique art has been a part of the Jacksonville Jazz Festival since 1980 with an official event poster unveiled each year.
This year the festival is featuring two poster designs created by local artist Jeff Whipple.
A rarity compared to previous years, the 2018 posters pay homage to the jazz performer and fan. Each piece of art incorporates Whipples's distinctive and highly recognized three-line motif.
"I use three lines because three repetitions of an element are a pattern, and that implies a definite design," said Whipple in a news release. "Think of it like a bass player repeating three notes to hold a jazz song together. Or, as Lou Reed said, 'One chord is fine. Two chords are pushing it. Three chords and you're into jazz. I also use the three lines as a life symbol because the basic perception of something living is a pattern of movement. If viewers understand that the three lines represent something about life, they will create their own ideas about what it means in this poster."
In creating the posters, Whipple sought to pay homage to the audiences that enjoy jazz, as well as the musicians who keep America's music strong.
Each poster design features a Jacksonville connection.
One features Liz Gibson, a jazz enthusiast and locally acclaimed artist widely recognized for challenging the perception of human limitations. The other features Jacksonville native, jazz drummer and Grammy  Award winner, Ulysses Owens, Jr.
A nationally recognized artist and playwright, Whipple has won dozens of awards in professional art competitions and six state-sponsored artist fellowships., according to the Jacksonville Jazz Festival.
This spring, he won a $25,000 artist grant from the Pollock-Krasner Foundation.
He has had 84 solo exhibitions in galleries, colleges and museums including the Tampa Museum of Art, the Gulf Coast Museum of Art, the Museum of Art, DeLand, and the Boca Raton Museum of Art.
His art has been in dozens of group exhibitions across the U.S. and is included in corporate, municipal, college and museum collections.
Whipple has had many large-scale public art commissions and is currently working on five sculptures for a park in St. Petersburg, Florida.