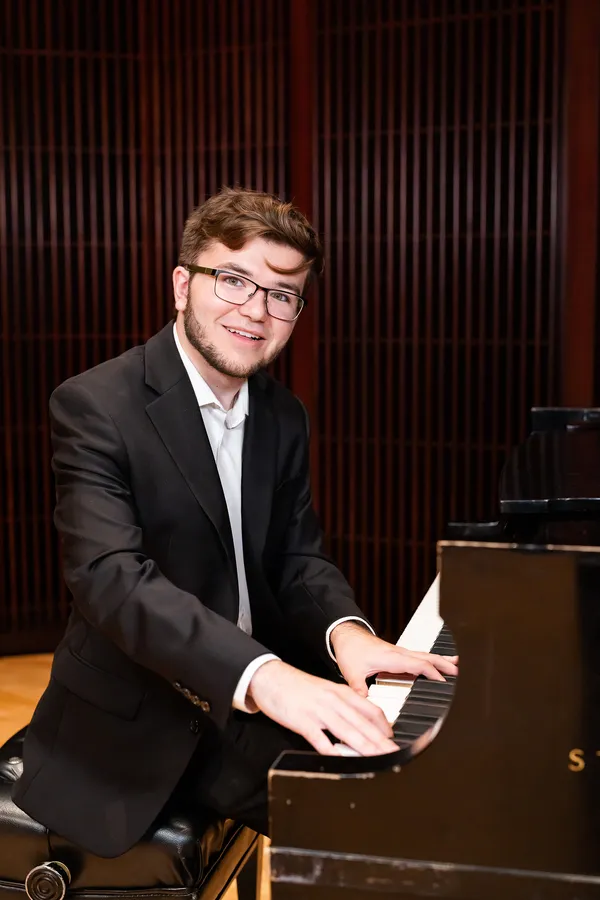 Texan wins piano competition, Sunday spot on Jacksonville Jazz Festival stage
The Jacksonville Jazz Piano Competition kicked off Jazz Festival weekend with a few surprises Thursday night at the Florida Theatre.
For one, a new rhythm section was in place to accompany the performers. Ulysses Owens Jr., who hosts his own Don't Miss a Beat Jazz Festival in Jacksonville and will play at the Jacksonville Jazz Festival on Saturday, played drums alongside bass player Reuben Rogers. They replaced the long-time rhythm section of Clyde Conner and Dennis Marks that played behind contestants for years.
But Marks didn't go far. He was one of the judges for Thursday's competition at the Florida Theatre and, before the performances started, was named to the Jacksonville Jazz Festival Hall of Fame.
Each of the five performers played three songs Thursday night, two backed by Owens and Rogers and one solo. Each brought a different approach to the piano during their 20 minutes or so on the stage.
First up was Caelan Cardello, sporting a pale pink suit and thrilling the crowd with an original composition, "Gone Fishin'," on which he reached inside the piano to mute strings with his left hand while pounding away with his right.
He was followed by Jenny Xu, casually dressed in orange shorts and Nike trainers. Xu played songs by Chick Correa and Herbie Hancock, leaning close to the keyboard as if listening to her fingers caress the keys.
Italian-born Andrea Domenici brought a lively style to songs by Thelonious Monk, Richard Rodgers and Duke Ellington, leaving room in his performances for Owens and Rogers to shine.
Caili O'Doherty took to the stage barefoot and showed exquisite timing on George Shearing's "Conception," giving Owens three or four short solos then jumping in at just the right moment, no small trick considering that she and the other contestants had met the rhythm section earlier that day and rehearsed with them only briefly.
Tomás Jonsson, the final performer, opened with "Someday My Prince Will Come," easily the most recognizable song played all night, although he took it to places Walt Disney never envisioned, and closed with "This Love of Mine," a Frank Sinatra song that was slow and pretty and technical as all get-out.
O'Doherty and Cardello seemed to be the crowd favorites, but the judges disagreed. The judges — Marks, pianist Lynne Arriale from UNF and keyboardist Jonah Pierre — selected Jonsson as the winner. Jonsson, a Texan who has been playing piano since he was 5, collected a check for $5,000 and earned a spot on the Swingin' Stage at Riverfront Plaza at 6 p.m. Sunday, where he'll be joined by Owens and Rogers.