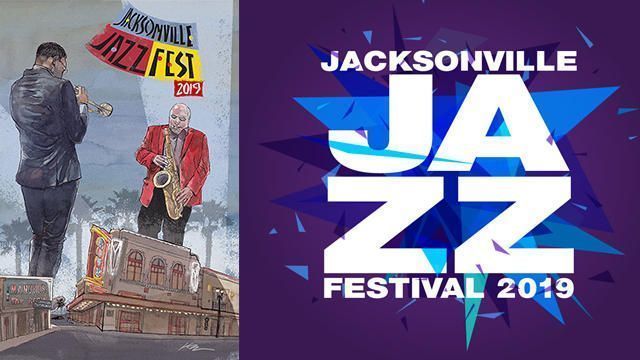 Jacksonville Jazz Festival Poster A Nod To City's History As 'Harlem Of The South'
This year's Jacksonville Jazz Festival poster pays tribute to the city's legendary reputation as the "Harlem of the South" in LaVilla's heyday.
Brooklyn, New York, artist and jazz aficionado Keith Henry Brown was commissioned for this year's poster. Brown said he was drawn to LaVilla's musical history, noting Ray Charles got his start in Jacksonville.
Charles played piano for bands at the Ritz Theatre in LaVilla as he was working to establish himself, earning $4 a night, according to The Jaxson.
"The large figures in my picture, looming over the once ecstatic downtown of Jacksonville at its music–fueled height are meant to imply the ghosts of the past that inform the future," Brown wrote on the Jazz Festival's website.
Other famous musicians that played in LaVilla include Louis Armstrong, Duke Ellington, Billie Holiday and Ella Fitzgerald, according to Downtown Vision.
LaVilla's African American music scene flourished in the 1940s. A history of LaVilla is available on The Jaxson, which is a partnership between WJCT and Modern Cities.
In addition to jazz musicians and the Ritz, Brown also plays tribute to the now-defunct Manuel's Tap Room.
The 1942 issue of The Crisis – an NAACP magazine – called it "the finest of its kind in the South," according to MetroJacksonville.com.
Brown has also created posters for  Jazz Appreciation Month for the National Museum of American History and The Newport Jazz Festival while also contributing jazz album covers for artists such as Christian McBride, Kevin Eubanks, Toshiko Akiyoshi and Wynton Marsalis.
This year's Jacksonville Jazz Festival starts Thursday with a piano competition and runs through Sunday night. Gladys Knight and Brian Culbertson will be the headliners.
Other performers set to appear include:
Monty Alexander
Ledisi
Kirk Whalum
Alfredo Rodriguez Trio
Avery's Sunshine
Terence Blanchard feat. the E-Collective
Norman Brown
Camila Meza Quartet
Greg Adams & East Bay Soul
Moonchild
Jazmin Ghent
Amina Scott
Jamison Ross
Brass-A-Holics
The Noel Freidline Quartet with Maria Howell
LPT
The Delfini Jazz Sextet feat. Jacksonville University jazz faculty and alumni
Dennis Marks
Clyde Connor
The University of North Florida Jazz Ensemble