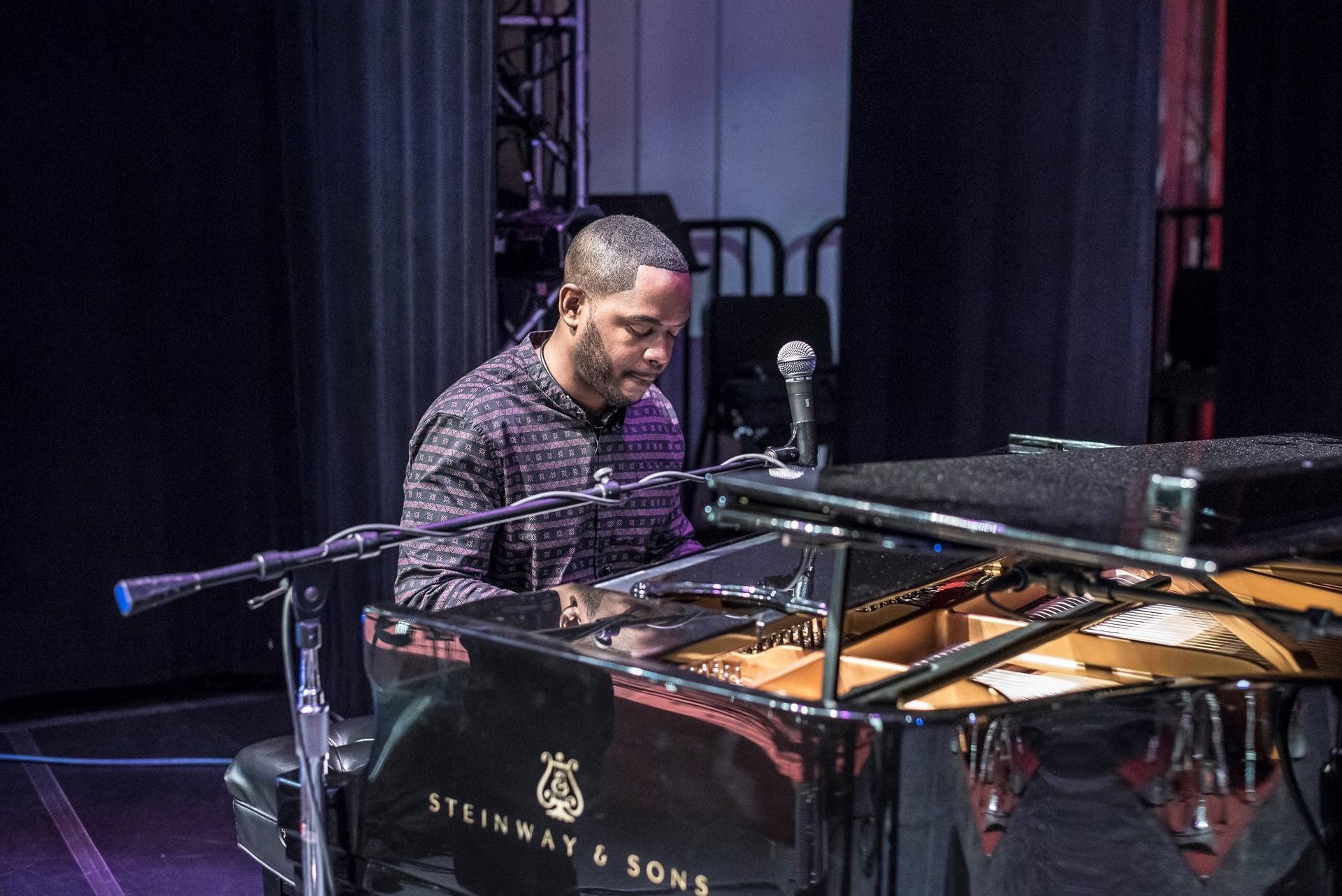 Jacksonville Jazz Piano Competition coming to Florida Theatre
The Jacksonville Jazz Festival is always an invitation to kick back and enjoy.
But it begins with a feeling of suspense.
Five talented musicians are playing to win when they take part in the Jacksonville Jazz Piano Competition, the traditional opener for the three-day celebration that follows.
Victory next week at the Florida Theatre brings prize money and a spot in the festival's weekend lineup.
The event, set to begin at 7 p.m. on Thursday, has become one of the highlights since it became part of the festival in 1983. It's an evening of promising performers playing to passionate listeners and an expert panel of judges.
There is one notable change in this year's competition: the host. Courtney Lewis, music director of the Jacksonville Symphony, is taking on the role filled more than a dozen times by Noel Freidline.
Freidline had a previous engagement, said the city of Jacksonville, which presents the festival.
But the pianist and vocalist, who graduated from the University of North Florida and was based in Jacksonville through 2000, is still part of the weekend lineup. The Noel Freidline Quintet is scheduled to perform Sunday, May 28, at the Sacred Jazz Brunch at the Omni Hotel.
Each of the finalists, who were selected in a "blind" judging of submitted recordings, will play three songs, including at least one solo number. They will be accompanied on some songs by Dennis Marks on bass and Danny Gottlieb on drums.
The winner receives $3,500, the runner-up $1,500 and the third-place finisher $750. He will also earn perform at 2 p.m. Saturday, May 27, on the the Swingin' Stage in downtown Jacksonville.
The finalists are:
Zoltan Balogh, a native of Hungary who started playing piano at age 6. He finished third at the Jacksonville Jazz Piano competition in 2012. In 2010, he finished third in the Montreux Jazz Piano Competition. Balogh and his twin brother, a guitarist, are the founders of the Finucci Brothers Quartet.
Zach Bartholomew, a Florida native and a Florida State University graduate. He was a finalist in last year's competition. He leads a jazz trio, which has performed throughout the United States and Europe. He is pursuing a doctorate of musical arts in jazz instrumental performance at the University of Miami Frost School of Music.
Esteban Castro, who is 14 and a ninth-grader at the Academy for the Visual and Performing Arts at Bergen County Academies in New Jersey. He also attends the Manhattan School of Music Precollege, where he is a double major in jazz and classical music, and performs with two jazz ensembles. Last year, he became the youngest musician ever to win the Parmigiani Montreux Jazz Piano Solo Competition at the Montreux Jazz Festival.
Jacob Hart, a performance major at the University of Miami Frost School of Music. As a teenager, he began formal lessons on classical piano, and later developed an interest in jazz piano as well. He began his jazz studies at Florida International University.
Hope Udobi Nwachukwu, who finished third in the jazz piano competition in 2010 and second in 2011. He is based in the Washington, D.C., area. Last summer he was an artist in residence in the Jazz at Lincoln Center program. He is recording his debut album.
The judges for this year are: Doug Carn, a Northeast Florida jazz musician and a former instructor of piano and improvisation at Jacksonville University; Gary Starling, artist-in-residence and professor of guitar at JU and a member of the Jacksonville Jazz Festival Hall of Fame; and Scott Giddens, a jazz pianist and a faculty member at JU and the University of North Florida.
The UNF 30th Anniversary All-Stars, featuring Lisa Kelly, JB Scott, Bill Prince, Todd DelGiudice, Aaron Lehrian, Barry Greene, Dennis Marks and Danny Gottlieb, will perform while the judges confer.
The Jacksonville Jazz Festival continues Friday, May 26-Sunday, May 28, at several outdoor stages in downtown Jacksonville. Look for complete information about the jazz festival in the Times-Union's entertainment section on May 26.